Being Invited as an Audience Member for Ellen's 60th Birthday Show! 
It was an honor and a privilege to be invited by the Ellen DeGeneres Show to be an audience member for her special 60th Birthday Celebration!
I was among 300 amazing advocates for kindness who were hand picked from across North America for the birthday show's audience. Everyone in the audience was from her "Million Acts of Kindness" campaign.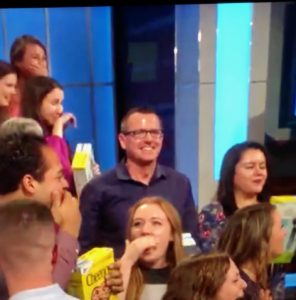 The episodes aired February 1-2, 2018.
The energy from the audience before and during the taping was lively, palpable, and extremely exciting.
At the end of every episode, Ellen motivates people to "be kind to one another".  But her 60th Birthday episode was unique.
As part of Ellen's Million Acts of Kindness campaign, Cheerios donated $1 million to be evenly distributed among the audience. In case you missed it, you can watch Ellen's three minute video announcing the gift by clicking here.
Ellen has inspired me in so many ways. And I'm grateful to be able to pay it forward. I'm using my portion of the gift to continue giving away free copies of my books to LGBT youth.
I feel so honored to be following my life's passion of helping LGBTQ youth.