Presenting at the Time To THRIVE Conference was an amazing experience!
I loved attending the Time To THRIVE Conference in Orlando over President's Day Weekend. The annual national conference promotes safety, inclusion and well-being for LGBTQ+ youth. It is always such an honor to meet people from across the country that share the common goal of helping LGBTQ+ youth in any way they can.
I had the privilege of presenting two workshops at the conference this year with Sameer Jha. Our first workshop was entitled, "The Intersection of Race,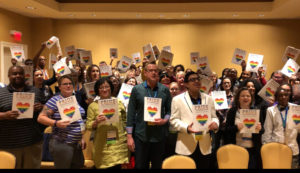 Gender, Sexuality, and Mental Health: Creating an LGBTQ+ Safe Space Through an Experiential Learning Perspective." Over 75 participants attended this workshop making it one of the best attended workshops of the entire conference.
The second workshop was entitled, "How To Help an LGBTQ Colleague Who Is Afraid to Come Out". At both workshops, Sameer and I facilitated robust interactive discussions with the attendees.
Betty DeGeneres Receives Award
Betty DeGeneres received the Conference's "Upstander Award" for her promotion of safety, inclusion,  & well-being for LGBTQ+ youth. She has written two books: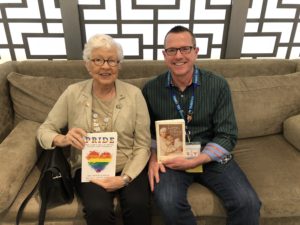 "Love, Ellen – A Mother/Daughter Journey" and "Just a Mom". It was a tremendous joy for me to exchange with Betty signed copies of our books. She is an inspiration to me and countless others across the globe. I first met Betty in 2012 in San Diego at the Center for Excellence in School Counseling and Leadership Conference. The world is better with people like Betty in it.
LGBTQ+ Youth Summit
On the last day of the conference LGBTQ+ youth from the Orlando area were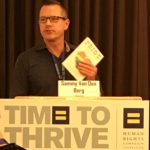 invited to attend the youth summit. The summit supplied lunch for the youth followed by a panel presentation about being LGBTQ+ in corporate America. Before the panel started, I was given the opportunity to introduce myself, my book and my coloring book.
I was able to give away free copies of my coloring book to all attendees of both workshops as well as give away free copies of my book and coloring book at the youth summit. This act of kindness was a way of me paying it forward with the money I received for being an audience member in The Ellen DeGenerous Show's birthday celebration.
I look forward to attending next year's conference in Anaheim.