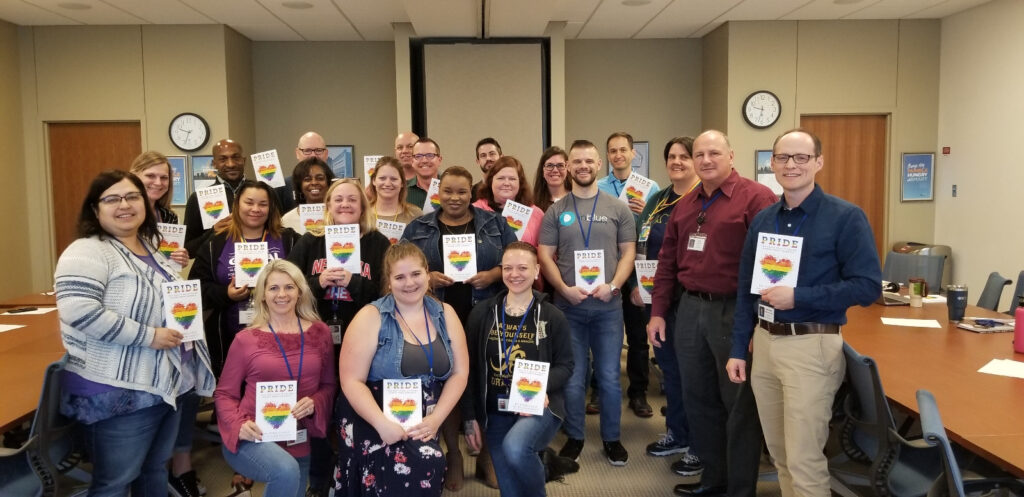 On April 26, Dr. Holt had the honor of presenting and moderating an interactive session on the importance of workplace safety and bolstering a welcoming environment for LGBTQIA+ employees.
This interactive session dove into how to make the workplace setting a more safe and welcoming environment for LGBTQ+ employees, including the impact of the physical environment, employee interactions, inclusive messaging, and how to make closeted employees feel comfortable coming out. Attendees engaged in a robust discussion and Q & A session, which included roleplaying.
The audience consisted of BCBSNE employees as well as invited guests from Omaha area ERGs who were interested in learning more about LGBTQ+ diversity and inclusion. All attendees received a signed copies of PRIDE: You Can't Heal if You're Hiding From Yourself.
The following comments were written by attendees on how the session influenced them or what they learned:
Dr. Holt you are amazing. I feel your passion. The power in your story makes me speechless. I learned today to always be sensitive and to be kind. Always be open and love everyone. I learned so much in this session. I could talk for hours! Thank you!
I appreciate the openness of the session. It's actually very refreshing to have such frank conversations about gender and sexual identity within my workplace. We can actually start making change now and I'm not the only one who wants to!
Excellent presentation. Balance between presentation and Q & A. It was illuminating to hear how a LGBTQ identified person perceives even walking into a workplace. Particularly as a straight man, (I feel) that my employer does not have easily accessible resources for someone struggling with LGBTQ related issues.
I really enjoyed this. I want to increase the diversity and inclusion in Blue Cross Blue Shield. I feel that the organization would be very receptive to change to increase acceptance and inclusion for our LGBTQ community. Thank you for doing this and opening the door for this opportunity to grow! I learned valuable input on how our company can increase resources and inclusion for our LGBTQ community. And there are many others within the work place that are supportive of this movement.
Very enlightening! People are struggling in ways that I had not thought of and I can do more to be visibly affirmative.
I think this was an amazing first discussion and was much needed. I got some great ideas about how to make LGBT issues more visible and how to work with concerned employees.
I learned don't force someone to come out. Let them come out when the person is comfortable. (Want to) start an ally and LGBTQ+ committee.
(Influenced me into) being my true authentic self. Helping get education/visibility out in our workplace.
Breakthrough thinking! Learned trust and direction on how to begin/manage change. How simple the path is to making change for the better.
I learned it is important to continue to understand the struggles and solutions our coworkers and friends deal with and how we can help. BCBSNE is taking steps to be more accepting and inclusive.
Learned awareness of how the workplace is perceived. I appreciate the tip of asking a person who is either trans or gender neutral what pronoun should be used…I love that. It's so respectful.
I will be more open about being an ally. Have more signs/visibility for people who are looking for an ally. One in five people need an ally just to be who they are.
I have always said we need to be more visible, but it's nice for people to agree. We just need action!
This helps me understand that being an ally is ever so important and possible.
This will help conversations with family and friends along with coworkers. I learned don't force them out and drop hints.
Learned to be more openly supportive and how to introduce yourself in a way to make someone feel safe.
This was very enlightening as I 'assumed' BCBS was just as inclusive at Mutual of Omaha. Always keep open channel of communication.